myTEFL and its parent company, Footprints Language Education Ltd. (FLE) are institutional members of the International Association of Teachers of English as a Foreign Language (IATEFL), the largest and most comprehensive TEFL organization in the world.
35% Promo code: okrecruiting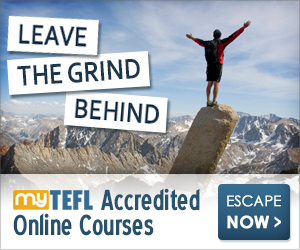 120-hour

Advanced

Course Tuition fees:

$

149.50
Discover how to teach English from the international TEFL experts.
You'll benefit from combined experience of over 25 years in the teacher training industry, as we train you to qualify as a confident English teacher.
Save up to 45% now
Bridge is a world leader in the field with over 25 years of experience transforming lives and organizations by fostering cross-cultural communication and language competency.
Online Level 5 TEFL Course(168 hours)
The TEFL Academy's Level 5 TEFL course (168 hours) aims to provide students with accurate information, skills and training to ensure they leave the academy with a sound understanding of teaching English, as well as a clearer picture of the TEFL industry as a whole.